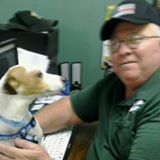 A Serial Murder series with a paranormal twist.
Spence Allen writes a slightly spooky style of a police officer who has seen evil first hand. Some of it is disturbing, dark, and has characters you would not want for neighbors. He knows these kinds of people because he is a fifth-generation Texas cop whose great grandfather was born in the territory in 1808. He is primarily a Texas cowboy, who owns horses and cows. He has done some bull riding and finished a lot of law enforcement training and experience. He writes things that relate to Texas crime from the point of view of a church-going guy with a large family. Some of it is not too pretty but darn exciting to read if you like a crime drama. Most of it is unusual to the point of being unique. He hunts, has lots of guns, and is generally politically incorrect. He is, however, an American – Texan first. You know his books, you know him. J North
Scary stories about facing evil from a Christian viewpoint
"I like donuts. For a cop, the Donut is the sweet thing you get during the shift between calls. Just a little reward for dealing with everything from scary people and crazy circumstances.  Then you retire and after all the pistol-toting and knothead thumping is over you have to find your Last Donut one way or the other, so I write. The book that I bring to OGSB is 'The Graves County Murders and it's a mashup of two or three cases in my career. The truth is, everyone in my books exists in some way or another." SA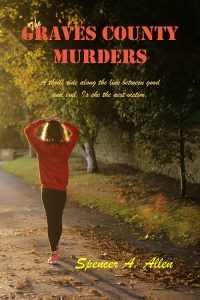 A runaway, partying with a cute boy, could she become the next victim of the Graves County serial killer?
You can buy this book here
The Graves Country Murders – Description
"Jack and Danny have shared a lot of bad coffee and good whiskey. They have gotten to the age in life where they realized better coffee and better living was also a good idea. They are honorable men, finding themselves trying to survive on the opposite end of the scale between the good and evil in that life. It all started when Jack was assigned a routine background investigation case that should have taken a few days. Less than 24 hours later, his truck is burned to the ground and he finds himself hurtling toward the bad end of that line. It demarks a land of unspeakable evil and people capable of murder. They have a dizzying number of treacherous and dangerous reactions to his questions during the rest of that Summer. When Danny returns with him to the area, fenders rub, bullets fly, and they take a dangerous high-speed ride along the line between good and evil. "
The Graves County Murders is available now as an eBook free to Amazon Prime members. Buckle up, it's quite a ride.
If you sign up and follow Spence Allen now, you will be notified when the sequel, The Lepetamine Murders has Advance Review Copies or other news.