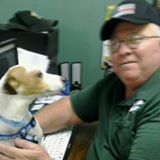 Spence Allen is a fifth generation Texan whose grandfather, twice removed, was born in the territory in 1808. He is primarily a Texas cowboy, with a lot of law enforcement training and service. He writes things that relate to Texas crime. Some of it is not too pretty but darn exciting to read if you like crime drama. Most of it is unusual to the point of being unique. He hunts, has lots of guns, and is generally politically incorrect. He is however, an American – Texan first. You know his books, you know him. J North
"For a cop, the Donut is the sweet thing you get during shift between calls. After all the pistol toting and knothead thumping is over you have to find your Last Donut one way or the other in retirement, so I write. The book that I bring to OFSB is 'Honorable Men' and it's a mashup of two or three cases in my career. The truth is, everyone in my books exists in some way or another." SA
Honorable Men – Description
"Jack and Danny have shared a lot of bad coffee and good whiskey. They have gotten to the age in life where they realized better coffee and better living was also a good idea. They are honorable men, finding themselves trying to survive on the opposite end the scale between the good and evil of that life. It all started when Jack was assigned a routine background investigation case that should have taken a few days. Less that 24 hours later, his truck is burned to the ground and he finds himself hurtling toward the bad end of that line demarking a land of unspeakable evil and people capable of murder. They have a dizzying number of treacherous and dangerous reactions to his questions during the rest of that Summer. When Danny returns with him to the area, fenders rub, bullets fly, and they take a ride along the line between good and evil few people must ever experience."
Honorable Men is in final preparation to be released in a few months. With luck before Christmas of 2019. Buckle up, it's quite a ride.
Free Stuff for Readers
Would you like to read a couple of excerpts from the book? Use the widget on the right side of the page and I will send you a few thousand words that will help you decided if you want to place an order.