New in Christian Fiction
Robert M. Starr's characters do not preach. They live hard, sometimes dangerous lives that are examples of Christian faith. The background information on the setting where they live is not just accurate they have depth. That's because Starr lived there, camped there, and went hiking the mountains and snow cover meadows.
Starr has four books that are currently available through Amazon in paperback or for Kindle reader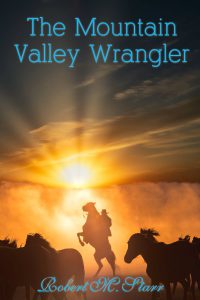 The Mountain Valley Wrangler – new release!
You can buy this book here
They rode into the valley on horses ridden too fast, too far. They were five desperate men riding with rifles ready and the harried look of hunted men. They rushed past the ranch house and rode straight for the barn and corrals.
"Charlie boy! Trot out them horses!"
The man's voice was loud in the silence that followed the thundering hooves of worn-out horses. Older by twenty years than three of the other four, half again as big as the biggest of them, he was unquestionably their leader. He sat his horse like a cavalry officer, barked orders with the confidence of a commander. He had once been an officer, but he was no gentleman, and his military career had ended in dishonor. Now, he sat his horse puzzled, wary.
"There'll be no horses."
The voice came from the darkness beyond the open barn door.
"Where's Charlie?"
"He's rasslin' with rawhide in the back of the barn."
The man behind the voice stepped from the darkness of the barn into the bright sunlight outside the door. At first glance, there wasn't much to notice about him, he was a man like many of the men of his time. He stood tall in well-worn boots; lean and hard, his weather-beaten skin showed the crinkles of "laugh lines" at the corners of his eyes, but there was nothing laughable about the sawed-off double-barreled shotgun he held in gloved hands.
"There'll be no horses," he said again. "S'pose you fellers just ride on out of here, an' there'll be no trouble either."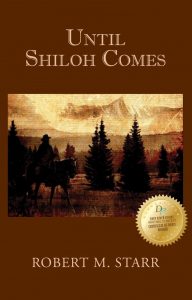 Until Shiloh Comes 
You can buy this book here
Why is someone with a long-range rifle and unusual skill shooting folks on the JH Connected?  Sarah Hadley and her daughter Hannah are trying desperately to hold onto their home, with old Caleb Stohr the last man remaining to do the heavy work on the ranch.  As the Montana winter approaches, a stranger, following the biblical instruction to look after widows and orphans, rides onto the ranch and offers to help.
    "Folks call me Shiloh."
      "Whatever you may have once been," Sarah said. "I think you have become a very good man."
      "No ma'am, I just a man trying to serve a very good God."
  Little did they know the danger that lay ahead.
"My daughter got this book for Christmas last year, she loves it." David, Willis, Tx
A Walk in the Wilderness
You can buy this book here
"As I stood up outside the broken airplane, I found that the snowfall of the previous night had ended. The scene before me was bleak, shaded in gray, and without the warmth of any color. Even the snow seemed more gray than white, and the trees along the ridges below seemed less green than charcoal. I couldn't see the sky, only the low clouds which held the snow to come. The wind was even stronger than it had been during the night, and I knew there would be no search that day."
Olympic Gold Medalist, World Champion and professional figure skater, Karen Flynn and her younger sister, Amy, crash into the Canadian wilderness on a stormy winter night, with only John Brant, their pilot, to help them. A Vietnam vet and a jungle survival expert, John is out of his element in the frozen wilderness, but he has only himself to rely upon. Karen and Amy need and appreciate his help, but their reliance is on God, a fact John barely tolerates.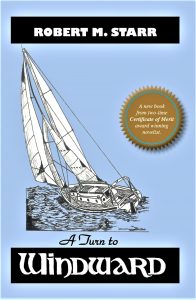 You can buy this book here
A Turn to Windward
Trapped in a world of prostitution and drugs, can a teenage
runaway's life get worse? It can.
Now she's pregnant and a murder witness.
Three years after her father's death in the Gulf War and shortly after her mother remarries, the beautiful and talented Rachel Stewart steals money out of her step-father's wallet and buys a bus ticket to the station nearest Broadway, intending to become a star singing and acting.
Angry and rebellious, but also naive and foolish, Rachel trusts the wrong man and vanishes into a world of prostitution and drugs. Five months later, sixteen, pregnant, and witness to the murder of another young girl trapped in the same captivity, Rachel escapes before an abortion can be forced upon her.
"I messed up big time, didn't I? I did a dumb thing," Rachel admits to her grandfather.
"I've done my share of really dumb things, too," her grandfather, a builder of wooden boats, confides. "Your life was in turmoil, a great storm, and you ran before the wind. In sailing, that can be dangerous; you can easily get off course and lose your way. But now you've made a turn to windward; you're back on course."
Rachel is back on course, but she is on a collision course with the psychopath paid to prevent her from testifying.
*******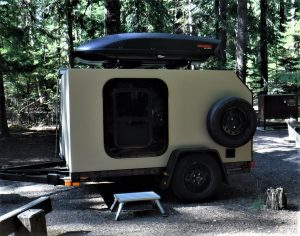 I don't know how long my wife has been saving for a small camper that she can pull behind her Subaru. We've been tent campers for our entire marriage (33 years a few days ago). She finally decided on a 'square drop' variation, and I have embarked upon a mission to grant her wish. We seem to have settled on the name WilderNest. We needed something light and simple, but strong and safe, so I started with an aluminum frame bolted together with grade eight hardware. I chose Timbren independent axles for several reasons – better handling, smoother ride, and greater ground clearance – electric brakes, all the lights are LEDs to reduce the electrical load. I finished by coating the frame with an automotive primer. Then I sealed the camper in a tough, flexible coating, black for the frame, the box in Desert Sand color, which looks nice behind her 'chocolate' metallic Subaru.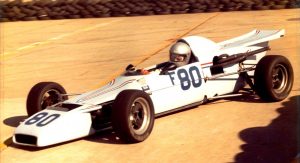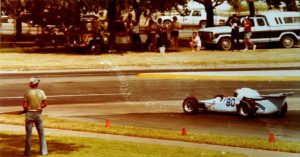 WD later moved to California to be Crew Chief of a professional Datsun race team for Frank Leary, then operated Barwood Development in Santa Clara for several years.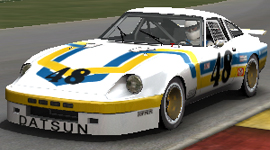 During the early years, WD became a police officer and later police chief. It took almost 30 years of driving in competition and building cars for him to get over the racing itch. In those early years, I took a voluntary break and spent four years in Uncle Sam's Air Force as a Joint Service Intelligence Team Chief in Asia and as a Special Research Analyst at the National Security Agency. I never did get over the racing itch; I just got married, had kids, became "Baba" to four grandsons, and discovered that families were as expensive as racing cars (and were even more demanding of time). So I still dream of racing, and I write books