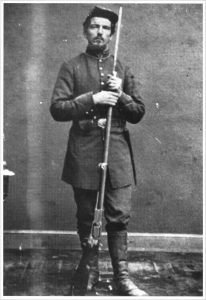 This Virginia grab at guns seems to have made an impression on the left. Don't let that fool you. It reminds me of the Civil War battles at Gettysburg at Big Round Top and Little Round top. A superior force of Genral Lee's troops led by Sgt. William Oates attacked a New York 15th Regiment and a detachment of Berdan's Sharpshooters under the command of 1st. Sgt. Wyman White.  At Big Round top Oates troops charged several times and were pushed back. Significant to this story is that when they regrouped, they were told to attack the rear flank of the Union troops. They were ordered ahead before the men could refill ammuniton pouches or even their canteens. They were battle hardened troops with a lot of experience. Oates wanted to stay at Big Round top and establish a defensive position. But a too-confident superior ordered them after the Union Troops. The marched with older muskets and flintlocks and a few captured Springfield's which were slow to reload.
At the next position, Little Round Top, White's men had retreated and taken up even better positions. It was a carnage of unbelievable proportions. The battle of Gettysburg was decided right there when the Southern troops were in full retreat. The New York citizen regiment's under Sgt. White's command – all of them Sharpshooters were carrying newer percussion cap rifled muskets which reloaded much easier. The men too were chosen because they passed the test of ten succesive shots into a bullseye at 600 yards in a five inch pattern; not a hair more would pass. Once they passed that test, these citizen soldiers were sent to the front lines. The far smaller group, so armed, untested and little training beat back and almost destroyed the entired CSA regiment commanded by Oates' superior force.
It was still true in Fallujah years later, expecting the citizen soldiers there to be a fairly easy fight the US military leaders almost got our asses kicked. Our guys found dozens of training, gun handling and tactical classrooms. The citizen soldier was tough, prepared and ready to defend their position.
The moral to the story? There is no reason for us to think all we need are hunting firearms.  The defense of our Second Amendment rights, or more precisely, the government's restriction on doing a damn thing about them must be preserved. We cannot assume as did Sgt. Oates superiors, that we have them on the run and they will not keep running. These guys think they have a better postition and will make another stand. We, as citizens, can't have our figurative weapons unequal, with empty canteens and be low on ammunition. In fact, our superior weapons of, truth, educating ourselves in the law, and acting as a government of the people must be backed up by another charge.  Soon. The government of Virginia need to know it's not just a matter of mounting another charge.
The fact is, 1st. Sgt Wyman White did exactly that, when the Southern forces attempted another assault on Little Round Top. He ordered his men to charge down the hill.  Had Sgt. Oates of the CSA won at Little Round top, the Civil War would have been won by the South. We would be two nations. One with slavery as a functional part of their national identity. Yes, we need as good and as powerful weapons as those that will be brought against us. And we as a civilian militia should train ourselves to shoot, to argue with our government and make sure the people we send to Congress go there with the same attitude. And, no, that does not mean I would hope that the south would have won – not implied or suggested.  Slavery should never have happened in the first place.
The first amendment is protected by the second. When one goes away so goes the next. The government of Virgina was seeking to put the force of the United States Military and their weapons against their citizens. That is staggering and the founders took the power of the government away in order to make sure it never happened.
Sgt. Oates went home to Alabama and eventually became Governor of the State. 1st. Sgt Wyman White went home and became postmaster of his community. Years later, Oates wrote to White commending his courage, professionalism and said there should be a statue erected at Gettysburg to him. WDE
OGSB Authors Associate, Spence Allen has a new murder mystery due out this month. Sign up on our Contact Page and we will let you know when you can get a free eBook copy. ogsbauthors.com